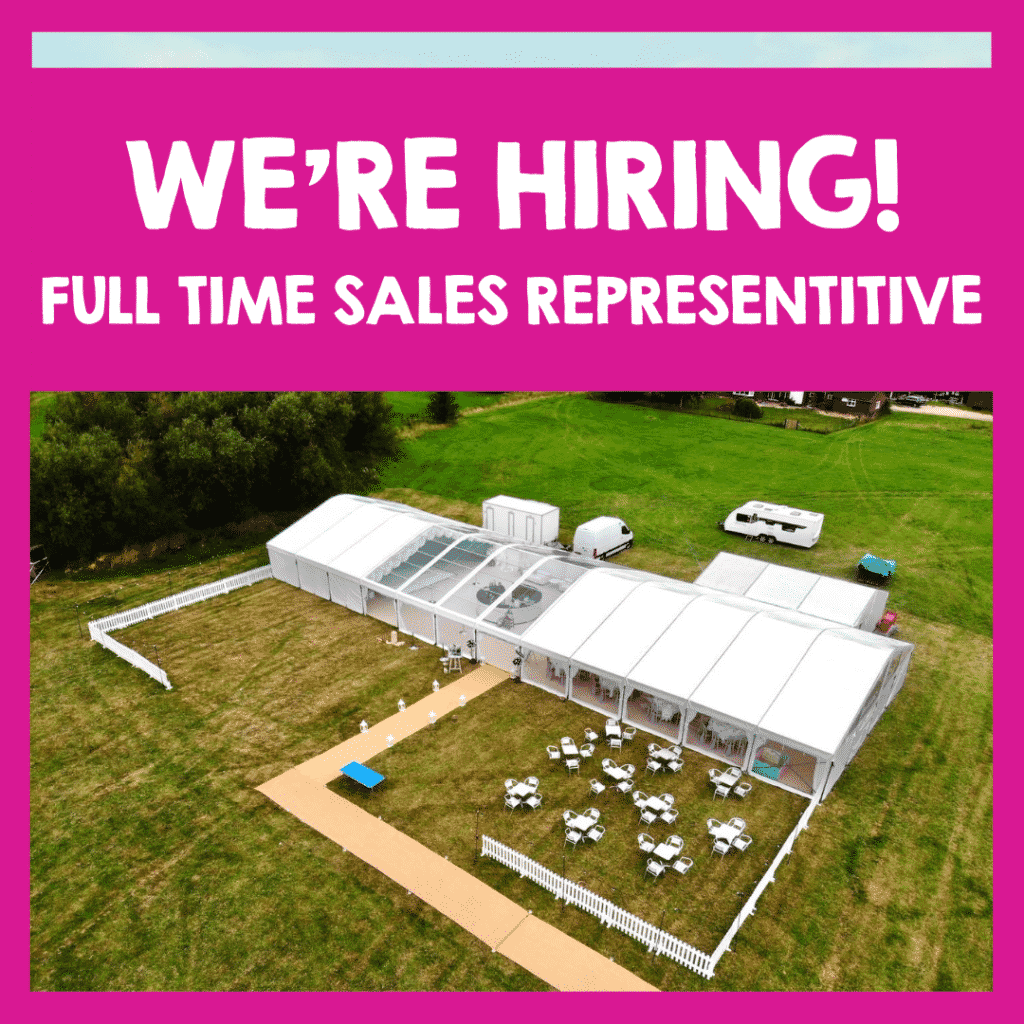 Start date Late Feb/March 2022
We are looking for a bright, enthusiastic superstar who is willing to learn, shares our positive mindset and would like to take responsibility for our aggressive growth targets for our award-winning Company.
We own two marquee hire brands – Abacus Marquee & Event Hire and Party in your Garden Marquee Hire. We're the highest reviewed marquee hire Company in the UK and we have impressive growth plans for the future.
If the idea of helping to sell weddings, private and corporate events sounds like fun then we need to talk.
The successful person who would be joining our growing team will have:
a positive attitude who is willing to learn new skills – somebody with an open mind is key
can follow a methodical approach to our ever-changing & improving sales process
is able to show empathy and has interpersonal skills and can build fast relationships with our customers
who is computer literate and is competent with all things digital
who understands in the modern world that customers' demands are ever increasing and can who can keep up with our pace of turning a lead into a customer
who loves working with Apple devices (we will "slum it" and buy you a Windows PC if you must!)
you are a highly motivated, confident and target driven person with excellent communication skills
sales experience isn't necessary as long as you are willing to learn our methods and have that positive outlook we are looking for
Daily Responsibilities
Identifying appropriate prospects from ours sales CRM, arranging appointments and making effective & qualifying sales calls
Prepare visual and accurate quotations that are clearly presented to our high standards
Following up leads you have built relationships with
Booking in customers via our booking in process.
Skills & Qualifications
Previous sales experience is ideal however a great working attitude & high ability to learn trumps any sales experience (we will teach you how to become an effective sales person!)
Excellent communication skills (written & verbal)
High personal standards in everything you do, with a growth mindset
Posses an in-depth knowledge of our brands and the services that we offer
We have a tried & tested sales process which is constantly evolving and improving. Our mantra at Abacus is continuous improvement and that's what we shall seek in our team, sales process and final product every single day.
Our Culture
Fitting into our fun-loving culture is a necessity here at Abacus. We are fast paced & hard working bunch where aligning yourself to our values will be crucial for your success.
We have quarterly days/evenings out with the whole team including our on-site installers as well as occasional drinks on a Friday after work. The Abacus BBQ regularly comes out during the summer too.
Our 3 Core Values
Give a sh*t
Play like a team
Have fun
Sales training and training with our cloud based CRM sales systems will be provided – we do expect you to manage your own personal development and the successful candidate will want to be constantly learning new sales skills.
You will be trained by the key decision maker of the Company who has helped grow our business by by 400% over the past 5 years.
We do things a little different at Abacus who have a more contemporary approach to communications and how we operate. Because we offer a modern approach we will expect you to be competent in using a computer & phone. We also expect a high standard of work in terms of how you present yourself when communicating with our customers.
We offer a very visual service – so we use lots of digital content to show our leads & prospects what their event could like like.
Who we Are & What we Do
We own two marquee hire brands offering award-winning and unrivalled service. Our services are offered around 6-8 counties cross the South East & London.
Party in your Garden
Provide small, garden sized marquees for birthday parties, asian weddings, family events. Guest sizes are typically 20-60 guests and these marquees come with various items such as heating, lighting, furniture and dance floors.
Party in your Garden has a great online presence with an online pricing app built into the website allowing users to get and quote and book online.
We are looking into making Party in your Garden a national brand, opening our operational reach UK wide – however we're going to need a team of talented sales people to get us there.
Abacus Marquee & Event Hire
Abacus are used for larger scaled events from 50 – 1000 guests for weddings, private parties, themed & corporate events. Abacus provide a more turnkey solution including bar infrastructure, event management, furniture, generators & toilets and theming etc so our customers can organise their complete event with just one contact.
During our peak sales times we are dealing with over 150 leads per week. We are looking for someone who can keep up with our fast paced office style, who can build relationships with leads and earn the trust of our customer quickly.
You won't be customer facing – you'll be communicating to our leads via phone, WhatsApp & email. You will be based at our offices in Sutton, near Biggleswade – we're based on a nice farm so expect lovely summer views when the weather is nice. Once you've shown you have learnt the ropes and can self manage we will allow you to work from home.
We have an ambitious end of year sales target which comes with a generous bonus scheme should our small sales team of 2 all perform hit our goals.
HOW TO APPLY
We hire on attitude rather than previous experience or qualifications here. If you would like to be considered for interview please don't just send us your CV.
This is a highly sought after role – If applying via indeed please send us a covering letter why you should be considered for interview (hint – a video of why we should consider you would score you extra points).
Please send your video of why we should consider you for interview to our email address along with your full name and your contacts details so we know who you are.
Application deadline: 18/02/2022
Expected start date: 07/03/2022
Job Types: Full-time, Permanent
Salary: £25,000.00-£30,000.00 per year
Don't just send us your CV – we're getting a lot of applications for this role.  To stand out from the crowd please send us a covering letter (extra bonus points if you Whatsapp over a video) of why we should consider to shortlist you.
Any applicants without a covering letter (or video!) will not be considered for interview.
Get noticed:  Send us a video of why we should shortlist you to our whastapp here.  Include your name and don't forget to email us your CV too!
APPICATION DEADLINE 18th FEBRUARY 2022