Your Local Bat & Barmitzvah Marquee Hire Professionals.
Bat Bar Mitzvah Marquee Hire in London
Helping you create memories & experiences that will last a lifetime.  By the highest reviewed marquee hire company in the UK.
Let's make sure your families' simcha is the best your friends & family have ever been to…
Your Award-Winning Bat & Barmitzvah Marquee Hire Experts
Planning a Bar or Bar Mitzvah is a momentous occasion that marks a significant transition in your child's life.  Imagine a celebration bathed in the warm glow of your garden, surrounded your close family & friends. At Abacus Marquee & Event Hire, we believe that hosting your child's Bar Mitzvah in a marquee within your own garden offers an unparalleled experience that outshines traditional venue options.
Personalised Atmosphere: Transforming your garden into a simcha wonderland allows you to create an environment that reflects your family's values, style, and traditions. Every decoration, every layout, and every detail can be tailored to match your vision, ensuring a celebration that feels uniquely yours.
Natural Beauty: Choosing a marquee in your garden brings the beauty of the outdoors into your celebration. The lush greenery, fresh air, and natural sunlight create a serene and joyful ambiance that cannot be replicated in a conventional indoor venue.
Flexibility and Space: Our marquees offer unmatched flexibility in terms of layout and size. Whether you're planning an intimate gathering or inviting the entire extended family, our marquees can be adjusted to accommodate your guest list comfortably. 
Endless Creativity: With a garden marquee, your creative possibilities are boundless. From whimsical themes to elegant designs, you can turn your child's Bar Mitzvah into a truly unique experience. Whether it's a starlit ceiling for a nightclub experience, hanging lanterns, or a unique transparent marquee finish our marquees provide the canvas for your creativity to flourish.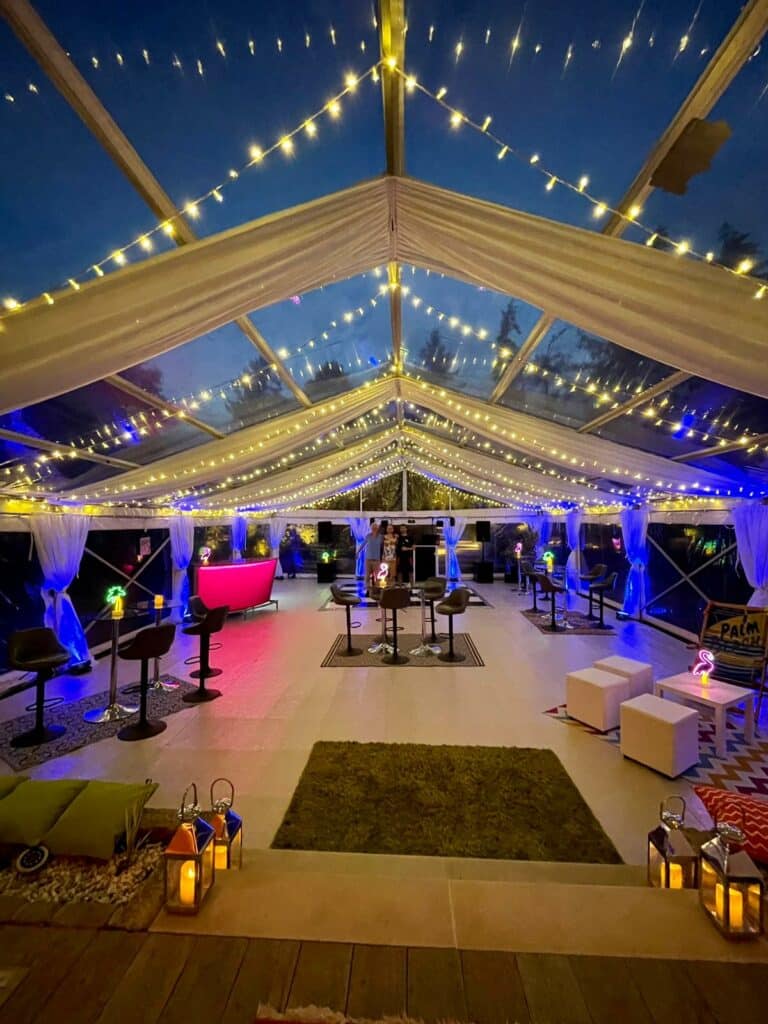 Intimate Celebration: Celebrating in your own garden offers an intimate atmosphere where your family and friends can share genuine moments without the distractions of a bustling venue. It's a chance to connect on a deeper level and truly celebrate the significance of the occasion.
Convenience: Hosting a Bar Mitzvah at home eliminates the need for commuting to a distant venue. Your home is the backdrop, making preparation and coordination more convenient for everyone involved. Plus, the familiar surroundings can help your child feel more at ease during their special day.
Memories to Cherish: The sentimental value of celebrating in your own garden is immeasurable. Each time you step into your outdoor space, you'll be reminded of the joyous moments shared during your child's Bar Mitzvah. It's not just an event; it's a memory etched into the heart of your home.
I'm sure you have done "all of the rounds" in the local venues in your area where your child has been to many times offering the same mundane simcha experience.  We believe a marquee simcha at home will give you the only way to provide a truly unique and unforgettable experience for your child, their friends and your family.   Contact us today to bring your dream garden Bar Mitzvah to life.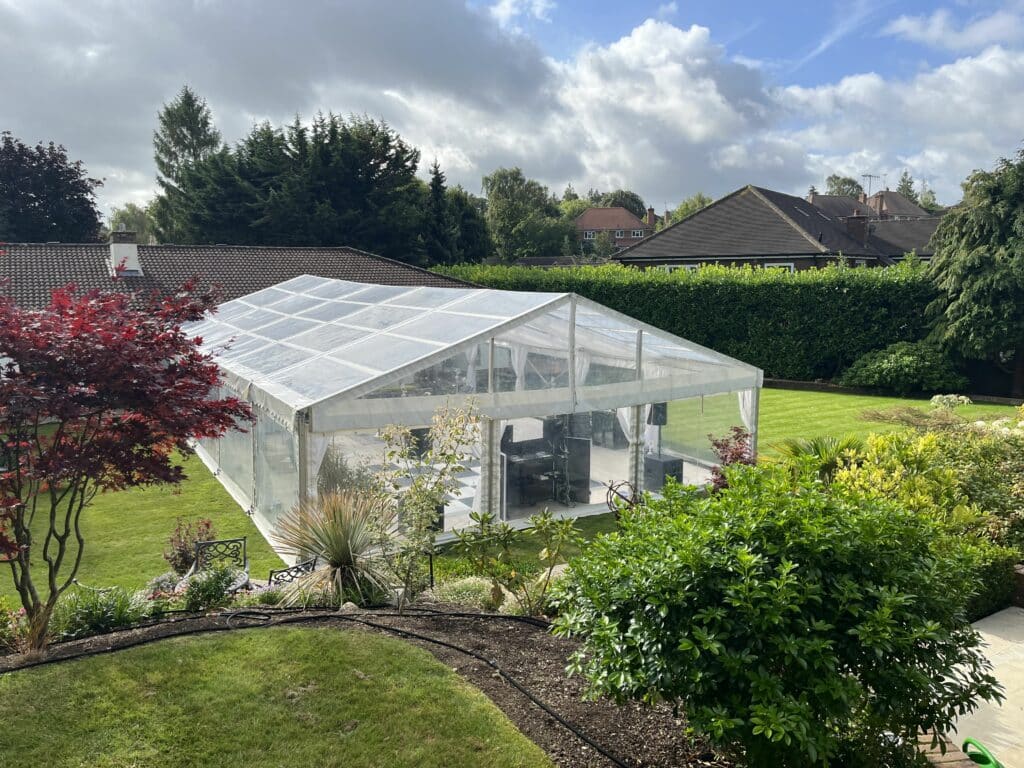 All successful simchas start with a site visit. 
Abacus has been transforming gardens like yours into perfect Bat & Barmitzvah party venues since 2009. Garden marquees are what we do and what we're famous for. 
We understand there is a lot of pressure on organising the success of your child's Bat or Barmitzvah. 
Mark can discuss the logistics of all of the events you're planning at home and will come up with some ideas to make sure your family's simcha is totally unique & unforgettable.
Organise a no obligation site visit with Mark right here and let's start your planning journey today.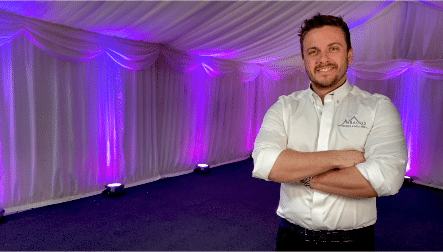 WHY USE US FOR YOUR BAR OR BAT MITZVAH?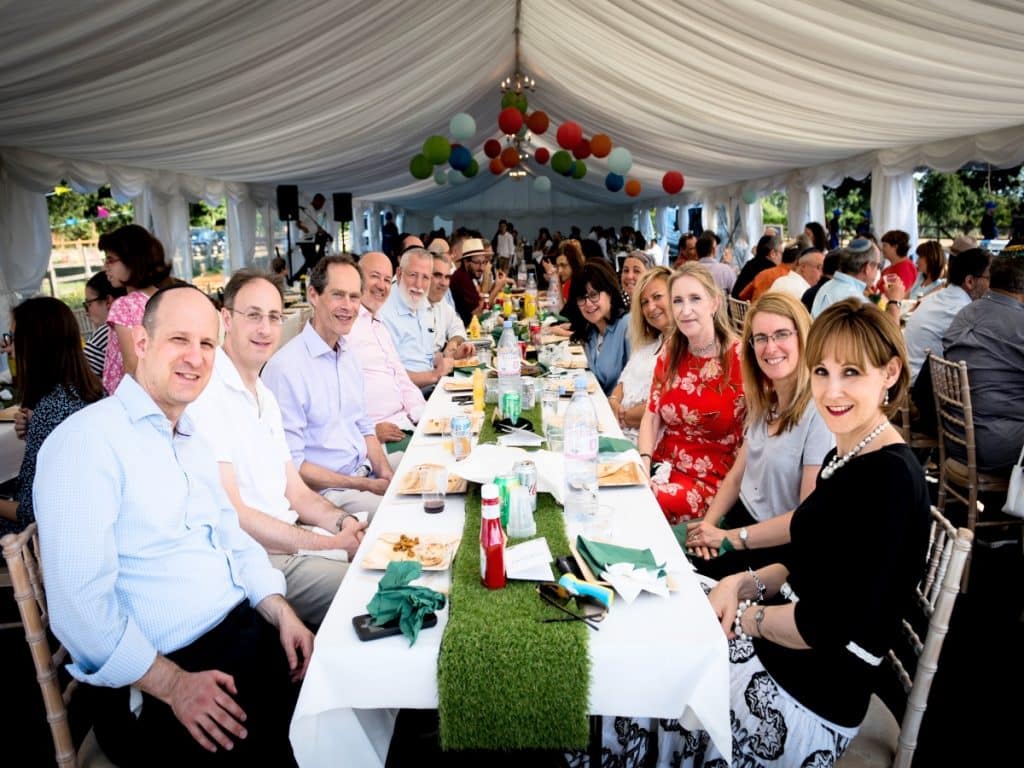 We understand if you've never hired a marquee for a bat or barmitzvah you need to rely on the people that do this every week.
You have a lot of guests to cater for, possibly for more than one event too.  You need to keep the kids entertained, as well as everybody fed. 
You need a company who have the experience who have completed countless amount of simchas before whole can project manage your event leaving you to enjoy your family's big celebration.
Make your big family celebrations the most memorable party your guests have ever been to! We can help you with:
Marquee & Flooring
Furniture Hire
Bar Hire & Bar/Waitress Staff
Casual Furniture (Sofas,
Cubes, Poseur Tables)
Dance floors
Lighting & Heating
Event Loos
Power Generators
Evening Theming & Styling
We've won awards for creating amazing events like yours so let's make sure yours is award-winning too!
Let's start the planning journey for your successful event and get in touch with us how you'd like to.  Our award-winning team in pink will guide & advise you every step of the way to make sure your event provides experiences & memories that will last a lifetime.
BAR / BAT MITZVAH MARQUEE HIRE EXTRAS
We don't believe in packages – you're not just another number! This is one of the biggest days in your families' life and it's very personal to you. That's why at Abacus Marquee & Event Hire – our quotes are tailor-made to you and you only.
Here are some of our extra services that will make help make your wedding a complete success. Everything you need in one place.
Everything you need to know about hiring a marquee with our handy 2 minute videos
Mark can visit your garden or venue and come up with some inspiring ideas to make sure your event is the very best it can be. 
A low, 20% deposit is required to secure your booking.  This can be paid by debit & credit card as well as online.
Our award-winning & friendly team will typically install your marquee 1-2 days prior to your event date.
It's time to WOW your guests as they arrive into your marquee.   Helping you make memories & experiences that will last a liftime.
Want to make sure your event is a guaranteed success?
Fill in your quote request right here and my team will help you make sure your event provides you, your friends & family, memories & experiences that you will never forget.
I personally promise you, you'll be blown away by how fantastic your event will be.
Our award winning team will help inspire you to create the most memorable experience for your friends & family to help you celebrate something truly special.
Get in touch with the UK's highest reviewed events company today!  (That's us!)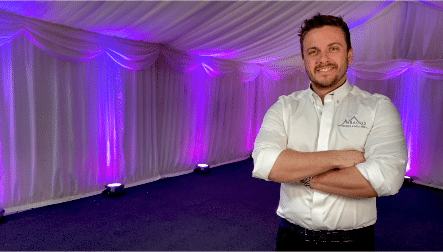 Mark Hammond – Owner & Founder