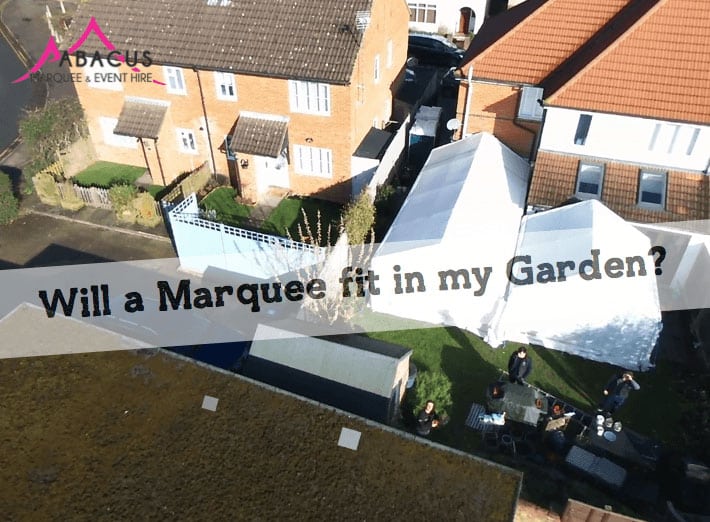 Will a Marquee fit in your Garden?
Today we're going to talk about your concerns that you have an awkward shape garden and if you think it's possible to have a marquee in your garden. Will a marquee fit in your garden?
Hi I'm Mark Hammond, owner of Award-Winning Marquee Hire Company Abacus Marquee & Event Hire.
If you think your garden will be challenging chances are we've already encountered it before.
You won't imagine where we have installed marquees before. We've had hedges, trees, swimming pools, ponds, and statues inside marquees before. We have installed marquees over two gardens with fence panels inside, we've even set a marquee up 4 storeys high up in Bank, in London for a corporate client!
Because we install over 400 marquees a year – we're super experienced in dealing with trickier spaces. We love challenges and we're often the only company that would take on such tricky gardens!
Thanks to our experience and customised equipment we have taken on various issues that a typical garden may have.
We're currently in a typical house here in St Albans. Our client here wanted a marquee for their daughter's 21st birthday. They're having over 100 people coming including friends and family and there simply isn't enough room inside their house to fit everybody in! 
Will a Marquee fit in my Garden?
We've also got to allow room for a couple of tables for nibbles, a bar area for the waitresses we've provided to work in plus a dance floor too!
The family has extended one side of their house with these lovely bi-fold doors giving them a great open plan space inside – which we shall utilise very well for this party. We're going to install LED uplighting inside to really make sure the guests know they're in the right place once they've stepped inside! 
However, they want to use both sets of doors that come off at different depths. We're going to have to join two marquees together to form one larger open space. We need to make sure the marquees we use to line up well with each other so it appears to be one large massive space.
We also have the ground being at several different heights to contend with. This event is going to be in March – so we're installing a hard floor system to make sure the ground is well insulated to keep things warm. This is also going to keep the floor dry and clear so the family isn't having to clean their floor hungover on a Sunday morning.
Will a Marquee fit in my Garden?
We need to minimise the areas where the steps in height are and avoid the guests from tripping over – this could be a regular occurrence for the people that spend most of the night at the bar. So what we have planned here is a raised bar area here with the bar being right at the edge of the railway sleepers. Thus minimising guests tripping over. Its all about using what you've got to your advantage – sometimes the hindrances can be quite useful.
This set up worked really well for the Mudd family – over 120 people came in the end and they had a brilliant evening! The dancing went on into the early hours and thanks to our bar trained waitresses the hosts didn't have to lift a finger – meaning they could enjoy their party too. It's one of our biggest recommendations having waitresses to serve at your event.
So if you think your garden isn't possible to have a marquee party – think again! Click below to book your site visit and we can see how we can get your party started!