A lot of my customers want the marquee to be attached to their house to give them the extra space for a party.  This is what we're famous for and have a huge experience in.  Now when I say attached, we do not drill or physically affix the marquee to your house – so don't worry!  We will install the marquee right up to the house providing you a seamless join from your living room for example, to your new party venue in your back garden.
It instantly gives you more room inside your home – just we've just made a temporary extension to your house for the weekend!  It can provide you that much needed space typically for house parties, birthdays, asian weddings and family parties.
Marquees can be joined to opening doors, bi fold, sliding doors…any doors!  We'll prefer to put the gable end of the marquee over the doors which allow the roof beams to fit over them – allowing you to open and close your door without a hitch.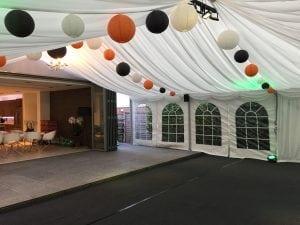 This is a really popular solution especially in the winter as your guests never have to go outside.  Our marquees are floored, lined and heating in the winter to ensure the temperature inside your marquee is just as warm as it is inside your home.  In larger marquees heaters are thermostatically controlled so it automatically adjusts to keep a constant warm temperature.
We can install a marquee on grass, decking, patio, gravel or concrete.  On a hard standing we will use heavy weights to make sure the marquee is safe – and ratchets and stakes if we're on grass.  We will run all electrics to your nearest power point and it's all switched on and ready to go before we leave.
In regards to the interior of your marquee – you can add flooring, linings, all sorts of furniture, bars & fridges, dance floor, speaker systems and paper lanterns to name a few.  We have our super famous Full Service Party Packages including Catering, Dj's, Event Loo's & Dinnerware & cutlery Hire.
We have have more of a chat about this on your site visit.  So if you haven't booked one already click on the below button to get your site visit booked…see you soon!
If you're looking at having a marquee attached it would be wise for us to pop over and do a site visit just to check there are no obstacles in our way.