How Many People can I fit inside a Marquee?
In this article, I'm going to answer the very common question – How many people can I fit inside a marquee?
Hi, I'm Mark Hammond, owner of Award-Winning Marquee Hire Company Abacus Marquee & Event Hire.
This is most likely one of the first questions you'll have when planning your event.  You'll need to know how many people you can fit inside the house and/or your marquee to work out your guest list!
Let's first off establish what is going to be happening inside your marquee for your event.  Some marquees will be quite open with plenty of space for standing areas such as 18th birthday parties.  As for weddings, we're going to have to work out spaces inside the marquee for chairs and tables, dance floors etc which all take up a bit more room.
Most parties have an element of 3 activities during the course of the event.  At some stage your guests will be standing, mingling and drinking, they then may be seated for a meal, and thirdly they could be dancing as well – so we need to bear that in mind that we may need to allocate some space for all three.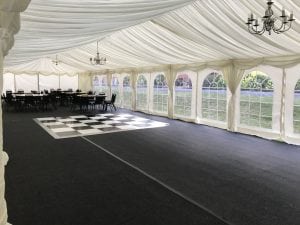 As a rough guide – a person standing takes up approximately 0.6m2 of space.  If your guests are going to be seated they will need double the space to allow for chairs and tables – so they'll need 1m2 per person.  We can then divide either of these two numbers with the total area of a marquee to work out its capacity.
So for example…how many people can I fit inside a 6m x 12m Marquee?  6m x 12m is 72m2.  So that would mean you'll fit roughly 120 guests standing, or 72 seated.
Remember you'll need extra space for areas such as an open reception area, bar area, dance floor, DJ booth or a band, etc – so it's always best to have a bit of extra space if you can fit it in.  By adding another bay onto a marquee isn't going to break the bank in terms of cost – and you'll make your guests feel more comfortable too.
When attaching marquees to the back of your house  What works really well is the marquee as the dancing and bar area, with plenty of standing space inside the house that we can also utilise. 

The beauty of working with Abacus is we can pop over and measure out what we can fit inside your garden.  We'll work out the numbers for you and let you know what you can comfortably achieve in terms of capacity.  There's a button on the bottom of this video to book your site visit now and we'll pop over!
Let us work it out for you