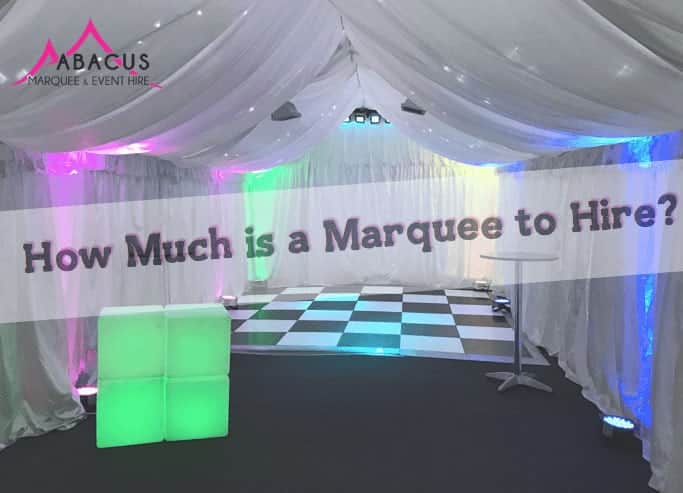 How much is it to Hire a Marquee?
It's one of my most frequently asked questions so I've decided to write a post about it.
This is aimed primarily more at the small garden marquee hire market who are looking to give their house some more space for a party they're planning.  Most likely to extend their home by "attached" the marquee over a set of doors in their garden.  If this is you great, there's another blog post about attaching a marquee to your house!
But that does't mean to say you know everything about marquees does it?!  Hiring a marquee isn't an everyday thing and I completely understand it is a new world of confusion – so I'm here to help.
I'm going to be very honest and transparent here – and by the end of reading this you'll be somewhat more educated about marquees than 5 minutes ago.
Marquees come in all shapes and sizes.  Obviously the larger the marquee, the more expensive it will be.  Also, the length of hire will also have an impact on costs.  Most companies, including us – our standard hire period is 3 days.  So we set your marquee up on a Friday, and come on Monday to take everything away.  For some events such as Asian Weddings or Festivals, the marquees tend to stay up longer.
95% of marquees come with flooring and lighting as a basic requirement as it's more practical.  I would always recommend this as a minimum requirement.   
When finding out the cost of hiring a marquee you'll need to bear in mind they can also come with other items such as linings, heating, nightclub style lighting, furniture, dancefloors, bars etc.  So the costs can rise with interior options items but that's the beauty of getting a quote with Abacus.  We can itemise everything for you, and even come up with 3 tailored packages for you to give you an idea on what the costs would be with each specification.
Right Mark I get it, but how much is it?!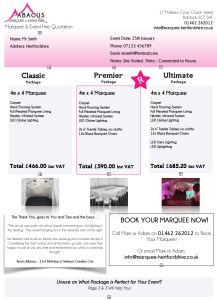 Without giving you a 'wishy washy' answer it's still really difficult to say without having a 2 minute conversation with you over the phone.  The are several factors such as size required, date, garden layout, location, access etc.  So it's really hard to say – but let's give you a rough guide as to how much you would expect to pay for a basic structure. 
I've given three examples here of our smaller marquees as a guideline:
30 Guests | 3m x 6m Marquee with Hard Floor System, Carpet and Lighting | £400
45 Guests | 4m x 8m Marquee with Hard Floor System, Carpet and Lighting | £500
60 Guests | 6m x 9m Marquee with Hard Floor System, Carpet and Lighting | £700
60 Guests Seated Anniversary | 6m x 12m Clearspan PVC Marquee with Hard Floor, Carpet, Full Lining, Chairs & Tables | £1500
80 Guest Nightclub Marquee | 9m x 12m Clearspan PVC Marquee with Hard Floor, Carpet, Full Lining, Dance Floor, Lighting Rig | Lighting| Bar & Staff | £2750 
100 Guest Wedding | 9m x 18m Clearspan PVC Marquee with Hard Floor, Carpet, Full Lining, Chairs & Tables, Lighting & Bar | £3500
Prices includes VAT at current rate.  Prices include delivery, installation and removal too.
When you hire a marquee – you're also getting with that an experienced team (in our case award-winning too!) making sure your structure is set up completely safe and ready to use.

  

Remember you could be having 20-400 people that you know under this big metal thing – it's got to be watertight and secure in case it gets windy. I don't think your auntie would appreciate your Amazon gazebo falling apart on her!


When you hire commercial quality marquees – you receive award-winning service from people like Dean!
Fridays…
When the wind or rain gets up I call Friday afternoons…Frantic Fridays.  Why?  Most of my phone calls go something along the lines of…
"Hi Mark it's Mrs Smith again.  We spoke about a month ago and you gave me a quote for my daughter's 18th birthday party for this weekend, remember?"
"Hello!  Yes I remember, you said you bought your own one and was going to do it yourself?"
"Yes, yes that's me.  Well the wind has launched our marquee into next door neighbours conservatory and the marquee has all collapsed.  Are you able to come over this afternoon and put one of your ones up please"
"Oh no that's awful, you're the second person thats called this afternoon.  I'm really sorry to say we've been fully booked for some weeks now!
"
"What am I going to do for my daughters birthday?!"
I get this a lot.  A lot. 
Is there a cheaper alternative to hiring one?
Yes.  Here they are:
It is possible to buy something for less than you can hire.  I would like to make that perfectly clear.  However they are incomparable.  What you are buying essentially from Amazon is a huge plastic bag with very thin poles.  For £100 it seems great value…why would I spend £350 on hiring one Mark?
Like I said above these plastic parachutes only need the slightest gust of wind and they're off like one of Richard Branson's hot air balloons.  More to the point they're not even watertight…so what's the point?!  Anyone got an umbrella?
Plus, you've got to put it up yourself (Just picture 3 men scratching their heads trying to interpret a very badly drawn diagram they've been staring at for 3 hour whilst its peeing down).  Your relaxing Saturday afternoon with the family has turned into carnage…
If the thing has stood up successfully for 3 days you've then got the task of fitting all these plastic poles and dripping wet canvass back into the half torn cardboard boxes they came in.  Take it from a chap who owns 28 Marquees…they take up a lot more room than you think!  They certainly don't fit back in those boxes either.
There are a long list of other issues these structures have but I won't go on, you get the picture. 
Commercial quality marquees are have a far higher maximum wind loading speed, are fully waterproof and can be installed over doors to allow you to step from your house seamlessly into your marquee.  They're installed by trained professionals who do this everyday – so you're going to get a product that's perfect for your requirements – and safe to use too.
They're also taller than most domestic marquees meaning they can comfortable fit over doors if you're planning to attach a marquee to your house.
And…..(I know you can't start a sentence with and but I'm doing it).  And….the cheap Amazon Prime hot air balloon doesn't come with flooring, heating, lighting, linings etc your new commercial quality marquee has as well!  So it's a win-win all round.
The Biggest Benefit?
You get this great new little venue in your garden and you haven't lifted a finger.  Your friends & family will be amazed at what you've achieved and it can be our little secret that you had the superheroes in pink do all the hard work!
After you weigh up your time, stress and hassle it's a false economy not to hire a marquee from a marquee hire company hiring commercial quality structures who do this every day.  I want to take as much stress away as possible for your event and I know your party can be arranged completely stress free.  That's why I offer full catering services, DJ's, event loo's, chair & table hire etc so you're not dealing with 4 people and hoping they'll all deliver on time. 
With Abacus you have one dedicated person arranging your whole event for you so you haven't got to do a thing!
It's really easy to get a quote.  Your best best is to call me directly on 01462 262012 or pop your details in here as we'll send a quote over to you
Speak soon,
Mark Hammond
Owner & Founder of Abacus Marquee & Event Hire Ltd.