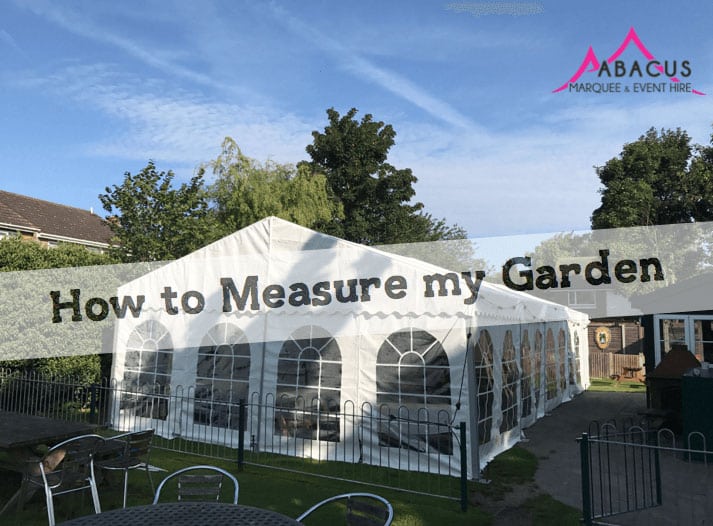 Hi I'm Mark Hammond, owner of Award-Winning Marquee Hire Company Abacus Marquee & Event Hire.
One of our specialties is installing marquees in back gardens giving you the extra space required for whatever your event may be.  We install over 400 marquees a year we do get asked frequent questions – so I thought Id give you some heads up on how marquees work.
A couple of the most common questions I do get asked is how large a marquee can I fit in my garden, and how many people can I fit in a marquee?
Now we do offer a no obligation site visit to offer advice on your party and explain how a marquee would work in your garden but I thought I'd give you a bit of a head start in this video.
We're going to work in metres today but if you still work in imperial measurements just remember 3 metres is roughly 10 feet.
Before you go and climb into the garage to find your tape measure – I can show you show to work out how large a marquee you can fit in your garden you can use things such as fence panels to give you an idea.  Most fence panels are just under 2m in width.  So if your garden is 5 fence panels long, we have roughly 10m in length to play with.  This is a very approximate guide but useful nevertheless.
Or it's one large pace is around a metre so you can also pace out the size too.
Like most other marquee hire companies – our marquees come in 3m, 4m, 6m, 9m, 12m and 15m widths.  The length is almost infinite.  So it's best to choose the width of your marquee first – typically try and go for the widest we can go the better, and then work out the required length accordingly.
We've been told before we're very imaginative when it comes to working with tight and tricky gardens.  So if you've got a challenging garden we can combine various sized marquees to ensure we provide you the space you event requires
One of our first questions we ask on any site visit is to ask what exactly are you looking for?  Is the marquee a simple extension to the house?  Or separate?  Will the marquee be used for seated guests, standing guests, dancing or a combination of all three?
For larger events – We also need to think about room for bars, dancefloors, cloakrooms, and catering facilities too.
Once we have established a plan, then we can start working out what size is going to be perfect for your event.   If your event is mostly standing we wouldn't need such a large structure to house everybody compared to a fully seated meal – chairs and tables do take a considerable amount of room after allowing space for guests to pull their chairs back etc. 
If you're struggling for space and your event is a seated event – Trestle tables take up a little less room compared to round tables, so we could get a few more seated in the same given space that way if things were tight and you didn't want to cull anyone from your guest list!
Generally a dance floor space is around 4m x 4m and can extend larger for larger events, and about the same area for a bar area, a DJ area or a band.
If you're unsure – Let's organise a no obligation site survey.  We'll pop over and have a chat with you to discuss exactly what you're looking for.  We'll measure your garden and come up with a perfect plan for your party!