The 5 Top Tips to run a Successful Event at Home
Whether it's your wedding reception in your garden or a big birthday bash – every event at home requires these 5 key elements to a super successful party.
All events at home require the big 5 key elements to a party to ensure your friends & family tell you that it was your event that was the most memorable they've ever been to.
These 5 components to a successful event are:
Catering

Bar

Music

Furniture

Space
I'm going to give you an overview of all five components now – however I do dive into more detail with each component in my other posts – so be sure to take a look at each of those in more detail.
It is always quite difficult to generalise all events as one – as holding a wedding reception at home has completely different catering requirements than holding an 18th birthday party at home.  Again, I have explained in other posts more detailed thoughts on holding a wedding at home, so check those out too!
With all of the advice below – we have scoured the South East's best caterers, DJ's & event staff so please get in touch with us and we can recommend some fantastic companies to turn your good party into a great one!



Catering
What catering options you offer will depend on what your event is.  I have explained in other articles that for events such as 18th birthday parties, the guests aren't too fussed about the food so it isn't worth spending lots on the budget on the food side of things (a pizza delivery is always the most cost effective and least amount of effort!)
For summer evening events such as birthday parties & family celebrations it's advised to have light foods as appetites aren't usually very big.  Bowl food & BBQ's work really well for these occasions as guests can eat as little or as much as they please.  BBQ's are quite interactive as they are cooked on site and there's nothing better than the smell of a BBQ!  Most good BBQ caterers offer lots of veggie & vegan options too.  This type of food also means you do not require chairs & tables for all guests and therefore you don't need quite a large of a space.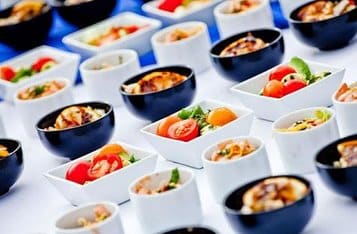 Bowl food options are perfect for summer parties where guest appetite is light.
Weddings & Bar mitzvahs
For slightly more sophisticated events such as weddings & bar mitzvahs a slightly more traditional caterer may be a better choice who could offer table service to your guests as well as a 2 or 3 course meal.  We are now seeing weddings take a slightly more quirky route using food vans & trucks as their catering supplier.
There is such a wide variety of types of event catering on offer now – which is fantastic for the consumer.  There are lots of unique food trucks & converted hose boxes offering their style of catering – food trucks are generally a cheaper alternative to traditional catering however I feel a caterer can offer you a far wider choice of food as well as a more personal service.
A caterer will visit you beforehand and discuss in great detail your likes & dislikes.  Food truck catering is more of a transitional relationship and you'll only get to meet them on the evening of your event.
I have written an article on how much to expect top pay per head for different type of catering which can be viewed here. 
The benefit of having a caterer come in is the fact they do everything for you.  They come in, with everything prepped, bring in a team of event staff to serve your guests all evening and at the end of the event they remove all of their rubbish away too.  It's a completely stress free experience and if you can afford to bring in a caterer my advice is do it!
However I understand that catering can be expensive when it's something you feel you could do yourself.  If you are going to do it yourself my advice is to ask a couple of friends on the day of the event to lend a hand so it's not all down to you. 
Avoid food that will go stale within minutes of being laid out (sandwiches, sausage rolls etc!).  Good examples of cost effective food that's a little bit different is a taco/nacho bar, pasta salads, pulled pork & asian dishes.
2.

 

Bar
Some would say, this is the most vital part of any party!  They are not wrong either…
You have two options when running a bar:
Bring in an external bar hire company

Buy the alcohol yourself, bring in the bar infrastructure
1. External Bar Hire Company – The Pay Bar
The first option is the most expensive and assuming it is you footing the bill at the end it will cost you standard pub prices for all drinks.  The option we only really recommend to events such as weddings or corporate events where there is a pay bar and the external company brings the whole infrastructure in.  It takes away any organising on your part as they provide everything.
Pro's
Hassle free – they organise and bring everything in and away for you
Wider drinks menu is usually available including draft beers and different spirits
Cocktail bar companies provide more of a unique experience
Con's
Is an expensive way of organising a bar – you will be paying pub prices per drink.

 

Makes it costly if the host is picking up the bill
Limited bar style choices – they are often of dated design (think cheap wooden bar)
2. The cheaper (and better!) alternative
Most events at home, it is usually the host who pays for the alcohol rather than the guests.  It will be far more cost effective for you to provide the alcohol yourselves and an established event company like ourselves can bring in the rest.  This includes nice bars, fridges, glasses, ice & staffing etc.  We could even bring in trained cocktail makers too.
We recommend you to order your alcohol online and they deliver it all to you to make it super convenient.  Most supermarkets now provide such great deals, and after delivery, make it just as cheap compared to some wholesale outlets like Costco.  Just get it all delivered!
The bar staff arrive before the event and prepare the bar for you and help tidy everything during the party.  This means after the event most of the bar & area is swept of glasses etc all glasses are return dirty too.  So you get the advantages of bringing an external company in, providing the full bar experience however you're paying half the price!
This is vernally how we recommend 95% of our events at home to set up the bar – you provide the alcohol and we provide everything else.   Just let us know what's on your drinks menu and we can work out what glasses you'll need.
How to Work out how much alcohol you'll need
My first bit of advice is keep the drinks menu as concise as you can.  Offer one type of white wine, beer etc and try to offer no more than 3-5 spirits.  Otherwise you'll end up with lots of half drunk bottles you'll be stuck with.  Keep it simple!  You should be typically aiming to to get one type of:
white wine

red wine

prosecco/champagne

lager

spirits (if required)

mixers & fruit (limes, lemons etc)
If you have no idea where to start with quantities of alcohol my best advice is to make a spreadsheet with a list of names down one column and the list of drinks in the row.  Guess what each guest will drink on the basis each guest may have 6 drinks.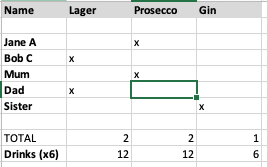 An excel spreadsheet can be great to work how much alcohol you'll need.
Most supermarkets at the time of writing offer a sale & return basis – so you can afford to buy extra than necessary and take back any unused alcohol. 
You may want to buy some ice on the day.  If you don't have any room in your freezer for this speak to us and we can bring a freezer in for you!
Other items you'll need:
bottle openers/corkscrews

straws

knife, chopping board & small bowls for limes etc

ice bucket/bowl

bin bags for rubbish
Speak to one of my team and we will happily guide you how to run a successful bar at your party!
Pro's
Halves your bar costs.

 

You're paying supermarket prices +small bar infrastructure costs
Good marquee & event companies will offer different bar designs to suit theme & taste
Con's
We recommend to limit your drinks menu options to avoid lots of half used spirit bottles afterwards so your bar tends to be more limited.
There is a little more to organise such as buying lemons, limes, ice etc.

 

But that's it!
3.  Music
The style of music you want to down to two main aspects – the demographic of your guests coming and also if you're having any special theming to your event.
For weddings & corporate events we work with a lot of fantastic bands and DJ's we will happily recommend to you if you're starting from scratch.
For music – you essentially have three options, of which your event will most certainly dictate what will be relevant for you:
1) Speaker & Playlist Option
By far the most cost effective and for some events this may work very well.  Playlists can be pre made on phones or laptops and you're away.  This works well on events that the music/dancing isn't the main aspect of the event and is more for background music.
Pro's
Plug and play – simple music delivery
Your choice of music – playlist gives you total control
Con's
A set playlist can't "read the dance floor" and the next track could very quickly kill the vibe!
The awkward 5 seconds of silence between each song tends to be a mood killer too.
2) Experienced DJ
DJs earn their crust because they can read a dance floor and know whether to stick or change up the genre.  They keep your guests dancing all evening and provide you a far more professional finish to your event.
We have a wide selection of DJs we can arrange for you whether you want an Ibiza club-experienced DJ or playing all of the 80's hits we can hand pick the perfect DJ for you and your event.
Most DJs bring some lighting with them however if you want a more professional and nightclub look you will be better to ask your marquee company to provide a professional lighting system that can change colour automatically in time with the music playing.  (It's called sound-to-light technology – all of the lighting systems have microphones in built to react to the bass)
Most weddings lean on the DJ a lot throughout the day to help keep to your itinerary and raise announcements throughout the day.  We can help you make the right decision in choosing a DJ who has had plenty of experience in performing for weddings – which is a totally different skill to a standard party set up.
Pro's
Far superior, seamless experience
More enjoyable for your guests
DJs can read the dance floor, will keep guests dancing all evening
More control of the event, with no guests changing music halfway though songs
Con's
Do your research – a bad DJ can ruin an event.

 

Get a DJ you can trust!
Is an expense for something you could do yourself – albeit in a more basic form
3) Having a Band
Having a band for music is great for guest interaction and bands can be a great way to strengthen a particular theme you may have.
Bands get your guests dancing and we really provide great entertainment pieces for the evening.  Bands tend to play in 3x 45 minute sets with break periods in between.  Because of this you will then still need a DJ or a speaker at the very least to fill in whilst the band are in-between sets.
Some bands tend to have an informal "rider" with their contracts.  They state their minimum requirements as some will only play if you have paid to have a stage set up for example.  Lots of bands also expect for be included within your catering too.  Bear this in mind when communicating with your band so you don't end up having to pay for extra items you thought you don't need.
For local/regional bands expect to pay anything from £500-£2000 depending on how well known they are, and whether they are a 3 piece band or a small orchestra!
Want a wedding band for your big day?
We have an excellent band that are perfect for wedding set ups as one of the band members is an experienced wedding DJ too.  So in between the band sets the DJ experienced band member carries on giving you a seamless experience throughout with no awkward silences between the two.  They come very highly recommended and please get in touch with us and we will put you forward to them.
Pro's
Very entertaining having live music at your party
Can suit various themes and/or tribute bands
Con's
You still need to fill voids when they are off stage.

 

Speaker or DJ is still required
Can be expensive (you may her to pay for extra items such as staging etc)
4) Furniture
Some events have different event requirements than others.  If you're having a formal sit down dinner you'll need different needs to an 18th birthday party there most of the guests will be standing up for example. 
Generally, the type of catering you're offering will also have an impact on what furniture you'll need.  I've broken down the furniture needs on an event basis below:
Weddings
Here you'll need chairs & tables for all of your guests – it is just a question of what style.  The most common (and the best in my opinion!) is the limewash chiavari chair.  This type of chairs is also available in other colours such as white, black, and even clear "ghost".  The colours of the seat pads can also change to your decor too.
For more rustic style weddings we recommend cross back chairs with rustic wooden trestle tables where you see the naked wood with no cloths.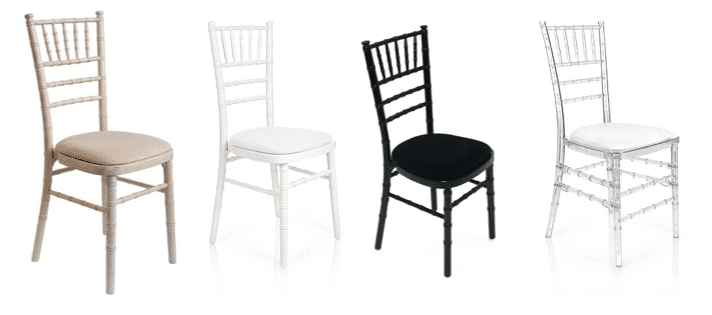 Different styles of chiavari chairs – The frame & seat pads come in a variety of colour options to suit every colour scheme (You can choose a limewash, white, black ,gold, silver and ghost frame with a choice of up to 14 different seat pad options including white, ivory, gold, black, blue, red, pink, purple & green)

The rustic wedding – Crossback chairs with beige pads are a big recommendation for rustic wedding!  Large oak tables showing their natural wood with some neat little table decorations create some amazing rustic settings.  Oak barrel poseur tables can also be added around the bar areas too!
Table Arrangements
Typically we recommend guests to be seated at round tables rather than trestles – on the basis it is more social to be sat at a round table than a trestle table as you're able to speak to more people.  However if space is at a premium the trestle table option dopes take less room up than a round table format.

Asian Weddings
Most Asian Weddings have furniture but not for every guest.  It's popular to place chairs around the perimeter of the marquee with a few chairs with tables in the middle.  Some guests will be happy to eat standing whilst some of the older demographic tend to sit & eat.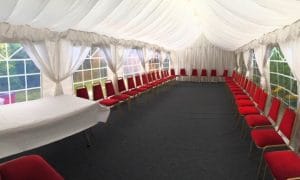 Informal Parties (Birthdays etc)
We recommend most informal parties such as birthday parties & family parties to have a variety of furniture.
It will depend on the type of food you're offering but you certainly won't need furniture for all guests.  We would typically recommend seating for 30% of your guests who would want to sit and eat at any one time.
You don't want a marquee full of furniture that your guests aren't going to use – we also want to keep guests standing and mingling so keeping chairs & tables to a minimum is ideal for these types of events.
We highly recommend poseur tables at any informal event.  They are the tall tables where guests can rest their drinks or eat bowl food from standing up.  They can be put in the marquee or outside if the weather is nice.  They tend to go near the bar area & dance floor.
Mark's Top Tip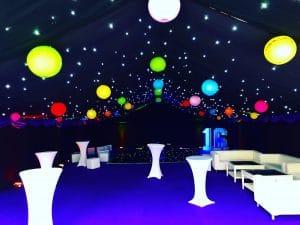 Poseur tables are ideal for every event as they're so useful!  They can be scattered inside and outside of the marquee and come in a variety if options:
4' table with white cover

4' high table with black cover

4' high table glass top with chrome finish

4' high oak barrel
They can also come with bar stools around them too.
Chillout Areas
These are great for all events.  Chillout areas consist of a mix of sofas & LED cubes where guests who want a breakaway from the dance floor have a quieter zone that's usually the furthest point from the music source. 
They work well at the younger demographic birthday parties where traditional chairs & tables will look a bit out of place and are perfect for the nightclub look & feel.
5) Space
Most events have 3 core parts to them.  The 3 D's…Dining, Drinking & Dancing.  In terms of space required for each section tends to go to 50% Dining and 50% Drinking & Dancing.  It's best if the dining area is at one end of the marquee with the dance floor at the other.
It means there is a quiet end (where the older demographic will want to be seated) and the dance floor at the opposite end.  The bar works well in the middle which provide a nice big open space for guests to stand and mill about.  Here's a typical CAD drawing show a marquee layout.
Unsure what will work out in your house and garden?  Call us on 01462 262001 and Mark will be more than happy to pop along for a no obligation conversation to discuss what will work with the layout you have.
Want Mark to pop over?
We're responsible for the success of over 400 events every year – so we know how to party!  Book your site visit now and let's start opening your unforgettable party today.